As you may know — or are directly experiencing for yourself — parts of the northeast are having their first heat wave of the year. Here in New York, the City's Office of Emergency Management has been reminding citizens to be careful of the heat. As I signed up for OEM's public warning mailing list, I received this notification email: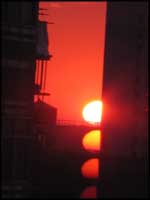 For the next four days the heat index in New York City is predicted to be in the high 90s. New Yorkers should hydrate, avoid strenuous outdoor activity, and stay in the shade when outside.
Remember to check on neighbors who may need assistance. Seniors, young children, and people with special needs are particularly susceptible to heat-related illnesses
I am posting this email less for the advice in the first sentence about protecting yourself (though it is important), but more to highlight the second sentence which recommends checking in on neighbors with who might be vulnerable to the heat.
One of the most important things I've learned about disaster preparedness is that it's not only about or for disasters. Many of things we do preparing and reacting to emergencies, such as checking in our vulnerable neighbors, help make our communities stronger, more resilient and better places to live afterwards. And research continues to show that the communities that react best to disasters are the ones that are stronger to begin with. Checking in with your special needs neighbors is a small way to contribute to that strengthening process.