I'm always on the lookout for clever preparedness ideas and have found one in my own backyard.
New York City's Office of Emergency Management (NYC-OEM) has organized an interesting partnership with several museums. Any New Yorkers who visit the Intrepid Sea, Air & Space Museum, the Museum of Art and Design, or the FDNY Fire Zone this week get a discount on admission if they fill out and present a completed emergency reference card.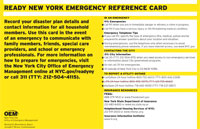 I wish that there were more institutions involved and the discount was a bit bigger, but this is a great and imaginative start by NYC-OEM. What's also nice is that museums and other cultural venues should be considered when selecting a meeting place as part of your disaster plan.