You know you've made it in New York City when the Empire State Building's lights promote your cause. So, maybe preparedness is catching on in the Big Apple.
The City of New York's Office of Emergency Management must be thrilled that the Empire State Building will be lit up in "READY New York Yellow" on the evening of September 2nd, which is the kickoff day for the City's National Preparedness Month activities.
I'll be handing out READY New York pamphlets in Columbus Circle that morning as part of my CERT responsibilities. Last year, participants distributed more than 100,000 preparedness guides and 30,000 bottles of hand sanitizer throughout the five boroughs during 2009's National Preparedness Month Kickoff events.
Hopefully, it will be a clear night and New Yorkers who look up in the sky that night will be reminded to go to the Ready New York website for more information on preparedness.
The Empire State Building lit up in New York Mets' blue to celebrate the team's appearance in the World Series. It will be awash in "READY New York Yellow" on the night of September 2nd.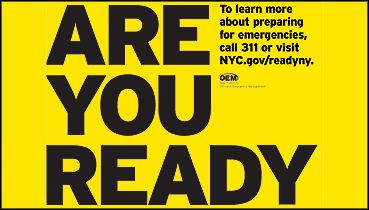 "READY New York Yellow"