Earlier this month, I wrote about a Community Emergency Response Team (CERT) group from New York City that went to Haiti to train earthquake survivors in emergency preparedness and response.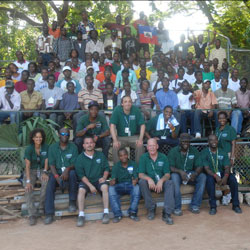 CERT team members along with their Haitian students
Herman Schaffer, the NYC team leader, kept an interesting journal of the experience and posted it on the City's Office of Emergency Management's Facebook page (photos are here.) Below is an excerpt:
We have just under 100 trainees today, including 18 women. The trainees are organized into two companies, A and B, each with four sections. Each section is composed of 14 people, including one Rapid Responder. These Rapid Responders had previous leadership roles in the camp and manage all administrative duties in their sections, like taking attendance, selecting volunteers, moving groups from one place to another, taking questions, etc. Their assistance allows the fire and health trainers to focus purely on instruction.

The class portion is conducted with two instructions using a PA system to speak to all 100 students seated in bleachers. The practical sections are broken down by sections (14 people). Each day, every trainee gets an MRE (Meals Ready-to-Eat) for lunch. I had to bring my own sandwich today, because the MREs are too salty for me.

On June 8, we trained the volunteers in fire safety. The course was interrupted by an hour-and-a-half monsoon and we had to move into two large tents to finish the classroom portion. When the storm passed, we practiced putting out different types of fires: five charcoal fires, one wood fire, and one plastic fire. The plastic fire helped highlight the different health threats and firefighting techniques required by various fires. The trainees felt empowered by the lesson and decided to collect all the plastic trash in the camp to reduce the threat it could add to fires.
The full journal can be read here.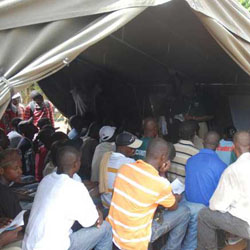 During rain storms, CERT classes were forced inside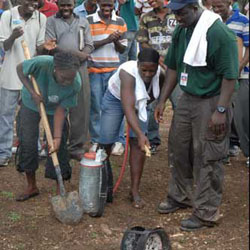 A Haitian trainee receives fire safety guidance from two CERT instructors