New York City's Office of Emergency Management (NYC OEM) will be sending NYC OEM Community Emergency Response Team (CERT) Program Staff, CERT Instructors from the Fire Department, and Department of Health and Mental Hygiene staff to train up to 400 Haitian residents in CERT. The team will leave for Haiti on June 7th. According to the City's press release:
"This will be the first time New York City has ever taught its CERT Program outside of the United States and the first time that such a program has been brought to Haiti," said Mayor Michael Bloomberg. "President Clinton, in his role as the UN's Special Envoy to Haiti, and former FEMA Director James Lee Witt recommended our program to the Haitian government which in turn asked our instructors to lead the first CERT classes in Haiti. We are honored to do it."
[The Clinton Foundation also just announced through their Twitter feed @ClintonTweet that it had pledged $1 million for disaster preparedness and hurricane safety in Haiti. An article on the donation is here.]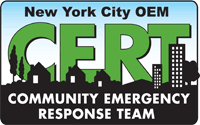 The 12 member New York City team is comprised of:
Four Haitian-Creole speaking fire fighters, who will be instructing CERT trainees in fire suppression and light search and rescue; two FDNY EMS personnel, who will teach first aid and triage; two Health Department employees, who will run courses in public health; three OEM staff members, who will assist with course instruction and manage the team; and; a senior CERT instructor who will serve as an advisor and help manage the team.
The roughly 400 Haitians who will be trained live in temporary shelters at the Petionville Club, a former golf course that now houses more than 50,000 people displaced by the 7.0 magnitude earthquake that struck near Port-au-Prince on January 12, 2010. Shortly after the earthquake, the group that will be trained volunteered to serve with the fire brigade at the settlement and received training in fire suppression.
The CERT program in Haiti will be taught to classes of 40 to 50 people over a 10-day period. The lessons are based on the Federal Emergency Management Agency's (FEMA) national CERT curriculum, but they have been modified to meet the needs of Haiti's population. For example, one lesson will instruct Haitian CERT members about public health issues and drinking water safety.
The concept of developing a CERT program in Haiti came after President William J. Clinton became the United Nations Special Envoy for Haiti in 2009. President Clinton and former FEMA Director James Lee Witt recommended the program to the Haitian government after traveling to the country on series of fact-finding missions. After the earthquake in January, Witt's firm, James Lee Witt Associates, requested New York City CERT instructors lead the first classes in Haiti. After the first round of training, the curriculum will be evaluated by Haitian officials. The CERT members trained by New York City instructors will then help develop the program in other parts of the country.