Today, November 19th, is the 34th annual "Great American Smokeout" aimed at helping smokers "use the date to make a plan to quit, or to plan in advance and quit smoking." Here in New York, the Department of Health is continuing its aggressive anti-smoking effort by handing out free nicotine gum and patches at sites throughout the City.
Like the anti-smoking campaign, civilian emergency preparedness requires a major change in societal behavior. It will not happen unless the government gets really serious and takes advantage of some of the levers normally used when attempting to change public behavior. 
As part of that, we need to be willing to utilize limited but significant financial incentives — such as giveaways — to get people to prepare. And, in fact, a study in the American Journal of Preventive Medicine indicated that New York's distribution of free nicotine patches has turned out to be an effective incentive to smokers in quitting. (The City also gives away condoms and smoke alarm batteries in similar social marketing initiatives.)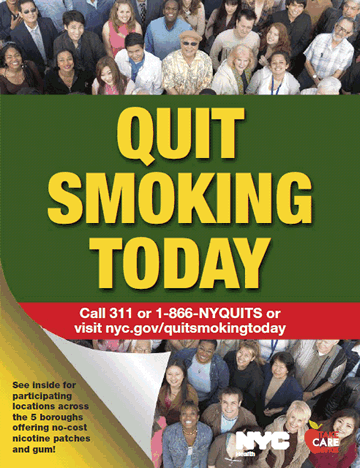 Obviously, you'd like people to do the 'right thing' (such as prepare for emergencies) without the need for incentives. But look around, when we really want to change public behavior we accomplish it either with the stick ('click it or ticket') or the carrot (tax breaks for retirement savings).
And if I may, I'd like to add one more personal thought on this day. It is a bit frustrating to know that I have little control over whether my leukemia– now in remission — returns. By contrast, smokers have it literally and figuratively in their hands whether they continue to increase their chances of getting cancer. No preaching, but I will say that it would be great to have that same opportunity to reduce my odds.