I attended a ceremony today marking the 1st anniversary of the construction crane accident that killed seven people in midtown Manhattan. 
Neighborhood residents, survivors of the accident, CERT team members who responded, local politicians and the media gathered in front of the construction site.
A moment of silence was observed at 2:22pm when the accident occurred.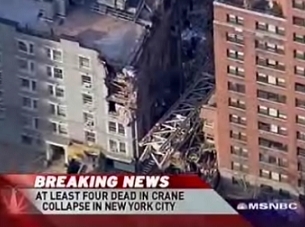 In the days after the accident, my CERT team, which is based nearby, were activated to help the authorities. We were asked to distribute bottled and hydrant water to area residents whose utilities had not been restored. 
Though our role was an ancillary one — mostly helping to lighten the load on the uniformed responders and the Red Cross — neighborhood residents were thankful to have our assistance and happy to see their fellow New Yorkers pitching in. Little did we expect that there would be another major crane collapse just a few weeks later only 40 blocks north.